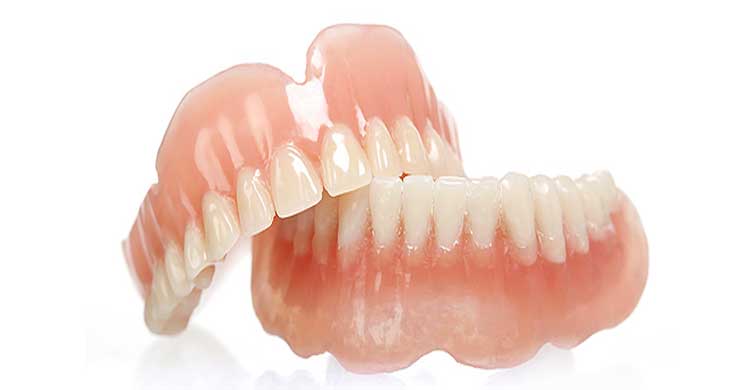 What are complete dentures?
Individuals who have lost all of their teeth in one or both arches could enjoy improved quality of life with the adoption of complete dentures During this process, your dentist will remove any remaining unhealthy and un-restorable teeth left in the mouth and replace them with a complete denture when the healing process is complete.

People opting to receive immediate dentures, which are similar to complete dentures, will be provided with a temporary immediate denture to use while the gum tissue heals.

Complete dentures include a gum-colored acrylic base that is designed to fit over the gums in a bid to provide a more aesthetically pleasing appearance, as well as provide support for the wearer. Depending on the patient's racial background, the shade of the acrylic complete denture base could be varied for a more authentic denture appearance.

The base of the upper complete denture covers the roof of the mouth, to ensure it is stable and comfortable for the wearer, and the lower complete denture comes in the shape of a horseshoe to accommodate for the patient's tongue.

By covering the roof of the mouth, the upper complete denture creates a suction seal which prevents it from dislodging during function. Unfortunately no such seal is possible for the lower complete denture, which makes lower complete dentures more tricky to get used to.
Will I get used to wearing complete dentures?
Although complete dentures look almost identical to natural teeth which is ideal for image-conscious individuals, they often take some getting used to because they are not fixed into place. Complete dentures can be made far more retentive by fixing them to the jaw bone using dental implants. ( fixed denture ) Patients may feel a slight discomfort for the first few weeks as a complete denture wearer, especially while eating hard foods. However, this problem usually subsides after a short period of time.

Some patients may find it difficult to familiarise themselves with the slightly loose feeling of lower complete dentures, which commonly occurs while the muscles of the cheeks and tongue learn to hold it in place.

In addition, it is completely normal to experience excessive saliva flow, minor irritation and a feeling that the tongue does not have enough room for a short period.

Individuals who continue to feel these symptoms, particularly pain or irritation, should contact their dentist as soon as possible.
How long do complete dentures last?
Depending on the quality of care given to complete dentures by the patient, the fixtures normally provide a long-term solution for patients. It's not unusual for complete dentures to last 5-10 years before they need to be remade. After a period of time, the appliances will need to be remade, relined or rebased as a result of everyday wear and tear. These processes will also help to keep the fixture in place as natural changes in the mouth cause it to change shape. Your Smile Galleria dentist recommends attending at least an annual appointment to ensure oral health is maintained and alterations required to ensure complete dentures are comfortable can be carried out.
How do I take care of complete dentures?
While cleaning complete dentures, particularly upon insertion and removal, it may be wise to stand over a folded towel or sink of water to prevent breakages if the delicate appliances are accidentally dropped.
It is also vital to brush the fixtures on a daily basis, as with normal teeth, in a bid to remove excess food and plaque and prevent the complete dentures from becoming stained.
Ideally complete dentures should be kept out of the mouth when patients are asleep to allow the soft tissues to recover. However if patients prefer to wear their complete dentures when sleeping, they must ensure adequate oral hygiene is maintained.
In addition, ensuring natural oral health is maintained is vital despite the fact that dentures are worn every day. Therefore, cleaning the gums, tongue and palate every morning and evening with a soft-bristled brush is necessary before dentures are placed. This will also stimulate circulation in the tissues and help to remove plaque.
Patients are invited to seek advice about denture repairs if their complete dentures become chipped or broken. Seeing a professional for denture repairs is vital to ensure repairs are carried out to a high standard.