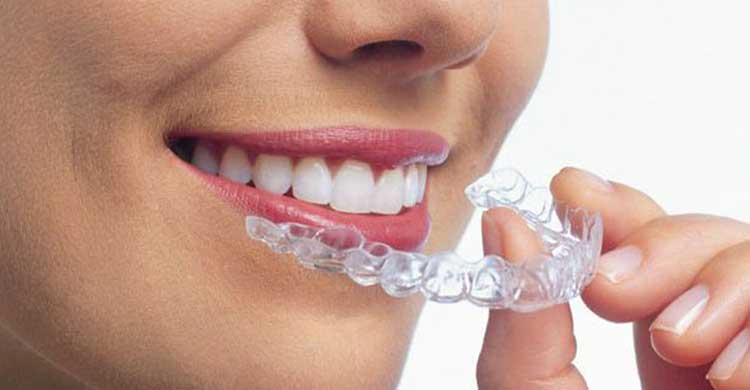 INVISIBLE ALIGNER
Are you an adult who's still struggling with a crooked smile? Invisalign could be the ideal solution for patients who don't want to pursue traditional metal braces. This treatment option consists of a set of customized, virtually unnoticeable aligners that you wear in a sequence. Before you know it, you will have achieved a straighter smile much more simply and seamlessly than you ever thought possible!
What is Invisalign?
Invisalign is a revolutionary system for straightening crooked teeth and closing gaps between teeth. In many cases, Invisalign can get rid of the need for traditional metal-wire braces that have long been used in traditional orthodontic practice. The system utilises the latest in computerised technology and three-dimensional modelling to generate a series of clear, see-through aligners or "clear braces". They are virtually unnoticeable, and are often referred to by many patients as "invisible braces". The clear aligners are specially fabricated to fit your teeth exactly, and over time, they move your teeth into a position that gives you a natural-looking, straight smile.
How does the Invisalign system work? It's simple:
You wear your aligners for 22 hours a day.
You remove your aligners to eat and brush your teeth.
Your teeth move slowly over time.
You change your aligners approximately every two weeks.
You have regular progress checks with your dentist or orthodontist.
Full treatment takes from six months to a year (sometimes 18 months).
Why is Invisalign better than metal braces?
Comfort
metal braces are usually more painful and can cause irritation and inflammation of the gums and soft tissue. The elastic bands and tightening forces used with metal braces can often cause discomfort. Although there may be slight discomfort when you start wearing Invisalign aligners, in general, most users find them very comfortable.
Convenience
This is probably one of the greatest advantages over traditional wire braces. You remove the aligners when you eat, thereby avoiding the problem of food getting trapped between wires and elastic bands. Invisalign also makes maintaining a good oral hygiene program much easier. With wire braces, cleaning your teeth is much more difficult – especially flossing between your teeth. The difficulty of flossing with metal braces means that most people will neglect this part of their cleaning, and this could le
Discreet
the aligners are virtually invisible to anyone unless they get very close to you, so hardly anyone will even notice that you are having treatment. This is one of the main reasons that has encouraged 1000s of adults to use the Invisalign system, as it won't cause any disruption in their lifestyle.