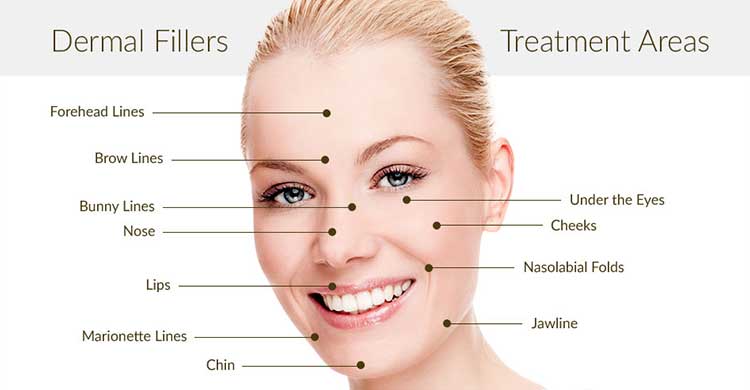 PERFECT COMPLEMENTS TO COSMETIC DENTAL TREATMENT
Treatments such as dermal fillers and Botox are an increasingly popular method of combating premature signs of ageing. Here at Smile Galleria, we've found that many of our clients have enjoyed having facial aesthetics procedures after completing a course of cosmetic dental treatment. In many cases, if you have invested the time and the effort in boosting your smile with the help of cosmetic dentistry, dermal fillers and botulinum type A toxin treatment can be the ultimate complementary procedures to leave you looking and feeling up to ten years younger
The benefits of treatment with dermal fillers
For many years, people who wanted to reverse or slow down the signs of ageing – wrinkles, lines, hollows, folds and such like on the facial skin – had only one option, and that was plastic surgery. Expensive, daunting, and requiring time off from work or socialising to recover, this was not the ideal treatment for everybody.

A cosmetic dentist is an excellent candidate for delivering facial aesthetics treatment, because they have good knowledge of facial structure, and can deliver the right amount of treatment in the right area to create results that, whilst noticeable by friends and family, are also subtle and entirely natural in appearance
Botox Anti-Wrinkle Injection For Wrinkle Treatment
Wrinkles make you look older than you actually are. With the new treatments available in the present times, most common of which is botox, facial wrinkles can be smoothened out, resulting in your skin looking 'naturally' young. You don't need to undergo any surgery. Botulinum toxin, i.e. botox injection is the most commonly performed aesthetic procedure in the world. The treatment is rather easy to perform with a low rate of complications. It, however has, a high client satisfaction rate. And, it is not a treatment just for the rich and famous, as thought by most people
Botox treatment is not recommended for
individuals with hypersensitivity to botulinum toxin.
patients with any infection(s) at the proposed injection sites.
patients of neuromuscular disorders
pregnant women or lactating mothers.
What are Botox injections used for?
Botox is most commonly used to treat facial wrinkles.
Facial Areas for Botox injection
Tooth grinding (to relieve muscle pain and fatigue associated with TMJ disorder and bruxism .)
Eyebrow lifting
Wrinkles around eye
Lines on upper and lower Lip
Contour jaw line
Drooping mouth corners
Vertical and Horizontal lines of forehead
)Gummy smile correction
Vertical lines between two eyebrows(frown lines)
Dimpled chin
How is the procedure is carried out?
It is a non-surgical treatment.
The injection site is cleaned. A topical anesthetic is applied in some cases.
Botox is injected into the muscle with the help of fine needles. The procedure takes about 10-15 minutes.
2-3 sessions of botox injections are required at times. The results of the treatment last for about 3 months.
Aftercare
Normal activities can be resumed after the procedure. Painkillers can be taken to ease off any discomfort
Botox cost depends upon the units that are used on a patient
We only use the 'original' BOTOX by Allergan.
We are well-versed with safety measures for the procedure
What are dermal fillers?
Dermal fillers are composed of hyaluronic acid or calcium hydroxyapatite. Fillers are used to create additional volume in the face to fill out wrinkles. Dermal fillers naturally stimulate collagen production in areas that have lost elasticity, creating younger, firmer looking skin. Dentists can also use dermal fillers to augment the lips in cases of high lip lines or to correct uneven lips.
Line around corners of mouth (Marionette Lines )
Smile Lines (Naso-labial folds)
Lip augmentation
How is the procedure is carried out?
Local anaesthetic is first administered to the area to prevent any discomfort.
The dermal filler is then injected, which only takes a few minutes
The effect of the treatment is visible immediately
Depending on the area treated, skin type and the injection technique, the filler effect can last between 6 and 12 months (usually six months for lips)
Follow-up treatments will help to maintain the plumped up look over time.